We Sell your coins
THE COIN COMPANY DO NOT BUY  UNGRADED COINS.
The Coin Company intends placing clients' coins on a mandate coin board. Client's coins will be displayed on our website and sellers and potential buyers may view them at their leisure. Offers may be made to The Coin Company and will be passed on to the sellers as is.
25% commission will be charged on all sales by The Coin Company. The prices offered by the potential buyers will be those put forward to the sellers, No further commission will be made by The Coin Company. This is similar fee to what e-bay charges.
This presents an ideal opportunity for clients to determine the real value of their investments, and realise market related Tax gains.
If you wish to sell your mandate coins on our website, please contact us.
What is a Mandate Coin? Why are they cheaper?
What is a mandate coin?
Many of our clients ask us this question, what is a Mandate Coin? Why is cheaper to buy them? The answer is simple. Many of our clients over the years have built big collections of coins, the most active collector trade coins all the time and improve their investment month after month. When they are ready to sell their coins they usually prefer to use the same company or broker they used when they purchased their collection of coins. If you take a look at the graphic you can see how if you purchased a coin in 2008 the value has grown over 10 times for some coins. In many cases selling your coins at half the current value will mean you are still making a huge profit, double or even triple the initial investment and in only 5 years. The Coin Company will sell on mandate some of these coins, generally limited to a maximum of 2 coins per grade and for a limited time. We will provide a personalised purchase certificate for the coins and we will intermediate in between the seller and the buyer. Easy and simple. A mandate coin cost doesn't represent the real current value of a coin.
Why would you sell your coins if the value continues to go up? There are several situations that will give an explanation to this question but we will name the 3 main reasons:
1- Selling coins to upgrade portfolio at a very specific time. 2- Need of cash quickly. 3- Deceased State. Owner of the collection passed away and family members are selling the coin portfolio.
The truth is that regardless of the reason there is no loosing game when you invest in Nelson Mandela Coins.
Today we know that the Nelson Mandela Coins still are the fastest growing coins in the world.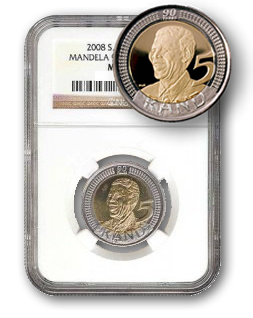 Nelson Mandela Graded Coin
Can I sell my coins without using a coin dealing company?
Yes, you can choose to sell your coins privately. Finding a buyer is not easy. Dealing with coins requires trust from both sides and The Coin Company provides that trust to its clients.
Always remember that in order to sell you coin in the future you will require a certificate of purchase from a registered coin dealing company.
When you purchase any coin from The Coin Company always remember that you will make a higher profit if your keep your coins for a least a period of 5 years. The majority of our clients do not sell their portfolios after 5 years but we will always advise when is the best time to buy or sell.
What is the difference in between mandate coins and coins from the catalogue?
None. If you are lucky to get the coin you want for a lower price take advantage of it. Purchasing mandate coin requires fast decisions in order to get them before anybody else.
It is in our best interest to keep our clients happy, for these reasons do not hesitate to ask any questions you may have.
We are happy to see happy clients.
The Coin Company
Other Categories available in this catalogue:
ZAR Tickey
Burgers Pond F/Beard
ZAR Kruger Pond S/Shaft
ZAR Kruger Pond D/Shaft
ZAR Kruger Half Pond S/S
ZAR 6 Pence
ZAR Penny
Veld Pond
SA Gold Sovereigns
ZAR Shillings 2/-
ZAR Shilling
Will And Kate Royal Wedding Gold £5
Coin Valuation
Please check with us if you would like to get an Up-To-Date valuation of your collection. There is no charge for small collections.